Security systems are becoming more significant at office buildings, shopping centers, lobbies and private homes.
There are many security systems that offer some of the best outdoor surveillance, depending upon your needs.
The best outdoor security systems can link video images to a handheld device, to monitor, while inside the comfort of your home.
These security systems also provide the confidence of monitoring your property and the safety of your family, even when you are away.
One of the top rated systems on the market today is the Amcrest ProHD 1080P 16CH Security System.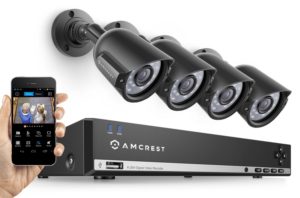 Details
2-Megapixel ProHD video transmission up to 1920 x 1080P.  IP66 Heavy-Duty Metal Weatherproof Bullet Cameras for Excellent Video Quality and Clarity (Expandable Up to 8 Cameras).

View and Record in Widescreen with Remote Viewing on iPhone, iPad, and Android devices.

Pre-Installed 1 TB Hard Drive (expandable up to 4 TB) for 6 Days of Continuous Recording at Highest Resolution.

Longer Recording Times Up to 30 Days Available with Use of Motion Detection and/or Lower Resolution Settings.

USB backup feature for peace of mind, and powerful IR LED night vision. All systems CE and FCC certified with UL compliant power supplies. US Support and 1-Year US Warranty offered exclusively by Amcrest.

Features
The Amcrest ProHD 1080P 16CH video security system comes with four high resolution security cameras. Feeds from these cameras can be sent to hand held devices such as an iPhone, an iPad or an Android smartphone or tablet.
The cameras allow for HD recording for a maximum of 6 days or lower resolution recordings for 30 days.
The package comes with a 500GB hard drive that can be upgraded. Another advantage is the Amcrest ProHD 1080P 16CH video security system is weatherproof.
If you happen to live in an area that is prone to storms, this security system is the best outdoor surveillance camera to have.
Uses
This security system can help monitor and deter the comings and goings in your home or small business.
Can be placed on porches, patios, in garages, storerooms or warehouses.
With real time video you have the reassurance of keeping an eye on family, employees or uninvited guests no matter where you are.
The Good
The infrared mode is automatically activated in low lighting conditions, and with this system's uncompressed signal transmission it delivers real time video without loss or delay.
The Bad
Setting up the system and connecting it to a router may be tedious because the system is not wireless.
Crime is everywhere today so we must take steps to ensure the security of our personal property. Fortunately, there are many devices out there that can help make our homes and places of work more secure and give us peace of mind.