If you are in the market for affordable home security, that also provide full coverage, then Simplisafe's systems are the right choice. Specifically, the Simplisafe Wireless Home Security Command Bravo package is the top choice in its class.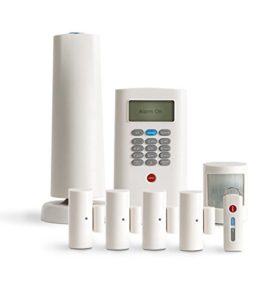 Details
Wireless "Do it yourself" home security system

Monitoring stations are ul-certified with a built in cellular connection

Unbeatable 24/7 security for just $14.99 each month

8-piece Bundle

Frustration-free packaging

Features
The system comes with a base station, keypad, motion sensor as well as an entry sensor. The Base Station is responsible for sending all your alarm signals to SimpliSafe's 24/7 alarm monitoring center and no phone is line needed. If a SimpliSafe keypad were smashed, the alarm would continue to function. The 'brains' of the keypad are in the base station. The sensors detect motion within 30 feet. The sensor has a 'field of vision' of 90 degrees, giving a full range of coverage even when placed in a corner. The entry sensor is placed on doors and windows and detects when opened or closed. The sensors are designed to fit on all types of doors and windows.
Uses
Keep watch over your home and family with this wireless security system from SimpliSafe. With crystal clear 720p HD video you can stream live footage from your camera straight to your smartphone from anywhere.
The Good
SimpliSafe doesn't have any long-term contracts. So you'll never pay for something you're not using. The system is wireless, meaning DIY installation is a cinch, and there's no hard-wiring or drilling required. All packages are fully customizable, so you can start with the sensor listed in this package and add more sensors whenever you want by logging into your account.
The Bad
The keypad can be difficult to read in low light and has no backlighting. Also, the keypad uses batteries that may drain quickly.
In conclusion, this system maybe the best choice for those wanting a hassle free home security system with no contract. With low monthly monitoring fees and competitive pricing your home and family could be safe and secure with the click of a mouse.