Today it's all about wireless, making bluetooth technology the foundation. Bluetooth transmitters allow users to send or receive music, files and videos to or from CD Players, iPods, PC's, MP3/MP4, car audio systems etc.
Also, bluetooth transmitters are small in size and have the ability to link several devices at once.
Bluetooth transmitters and receivers communicate with devices minus the hassle of wires and cables.
Here is a list of the best bluetooth transmitters and receivers for all your connective needs.
Aisidra 
Bluetooth Transmitter Receiver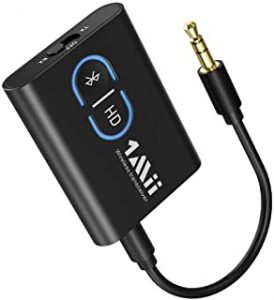 One portable adapter to use as either transmitter or receiver, powered by the latest Bluetooth 4.1, can pair with two headphones / speakers at once.

You get maximum flexibility with support for both 3.5mm (AUX and RCA) and optical (TOSLINK) digital, both input and output are supported.

Low Latency technology eliminate Bluetooth audio delay, so you can watch TV / Movie / Video and listen to high-clarity sound in perfect synchronization.

Internal battery provides up to 15 hours of using, support charging and streaming at the same time, and automatically re-pair with existing paired devices.

Keep an old stereo or wired headphone alive with new Bluetooth wireless connection, pair with smart phone or tablet from up to 30 feet away, and enjoy great music cable-free.

Trond 2 in 1 Bluetooth Transmitter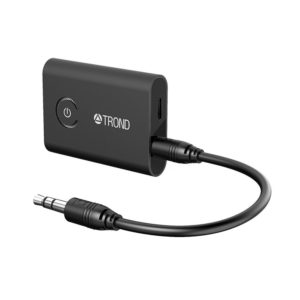 Bluetooth Transmitter with aptX Low Latency & aptX. TROND BT-DUO can help transmitting stereo audio with unnoticeable audio delay from non-Bluetooth audio sources such as TV, MP3, CD player, PC, Nintendo Switch/3DS or Sony PS3/PS4 to a Bluetooth-enabled headphones, speaker or receiver.

Bluetooth Receiver UPGRADED with aptX Low Latency & aptX. Previously TROND BT-DUO only supported aptX LL & aptX in the transmitter mode, and added aptX LL & aptX into the receiver mode as well. 

When used as a Bluetooth transmitter, TROND BT-DUO can be paired to two Bluetooth Headphones or speakers, and streams audio to both of them simultaneously. 

Can still be paired to two  smartphones or tablets, but the receiver can only receive the audio from one of the two paired devices. 

Avantree Bluetooth Transmitter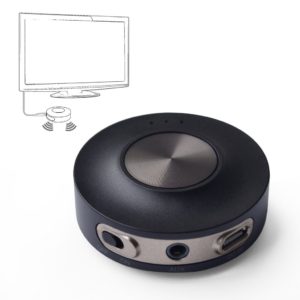 Effortlessly listen to audio from a range of devices, including TVs, PCs, laptops, iPods and more with this Bluetooth transmitter. 

Enjoy a favorite TV show wirelessly with practically no audio delay, with headphones/receiver that is also low-latency supported. 

Connect this Bluetooth transmitter to a DC charger, the USB port on the TV or other audio device for power that never runs out!

Spend less time setting up  movies and music and spend more time enjoying them! The advanced CSR8670 Bluetooth chip ensures fast pairing and a stable connection. 

This Bluetooth adapter comes with a full 24-month warranty, a video user guide, as well as telephone as well as email and live chat support.

Giveet Bluetooth 5.0 Transmitter Receiver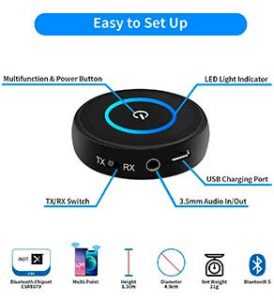 Can be used as either Bluetooth transmitter or receiver and transform an ordinary devices into wireless-capable devices. Perfect for TV, home/car stereo, DVD/CD player, Computer, TV and more.

More compatible to connect with a non-Bluetooth-enabled audio devices with support for both 3.5mm AUX and optical Toslink.

Outstanding Bluetooth stereo audio quality + low audio coding delay, minimize latency and 'lip-sync' issues. 

Flexible Dual Connections: It is capable of two Bluetooth devices connecting simultaneously, and a maximum memory of 8 paired devices. .

Bluetooth V5.0 Technology: It is ideally suited to wireless audio delivery with a working range of 10m/33 ft. 

Up to 15-hours battery life but takes only 2 hours to be fully charged.

Esinkin Bluetooth Receiver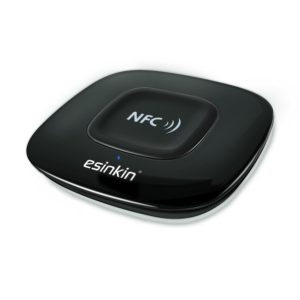 Simply pair a smartphone or tablet to the bluetooth receiver. NFC enabled phones connect the bluetooth receiver easily with Near Field Communication function.

Listen to music through a perfect stereo sound system from your bluetooth enabled devices, smart phones or tablets.

Receive bluetooth signal from up to 30 feet away.

Plug the bluetooth receiver into any A/V receivers, stereo sound system and any powered speakers with the standard RCA or 3.5mm jacks.

Bluetooth audio adapter for stereo sound system, delivers superior acoustics, clear sound quality for music enjoying.

Gone are the days when electronics had to be plugged in, which breathes new life into old technology. In return it saves money on not having to make upgrades.