Do you want to record a situation but need your hands free of a smartphone or camcorder? Or maybe you want to protect yourself while operating a vehicle or motorcycle without buying expensive mounts for special cameras. GoVision's camera sun-glasses allow you to capture brilliant HD video and photos with a video lens centered between your eyes.
Details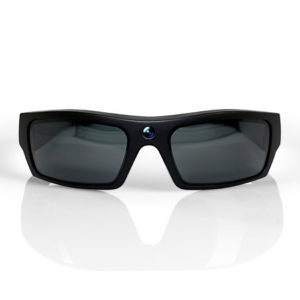 Practical full HD point-of-view recording. Record life as you see it in 1080p HD video at 30 frames per second. Comfortable and hands free, No bulky camcorders to carry or babysit.
Enjoy hands-free calling, two-way talk and streaming music when paired with your Android or Apple smartphone.
Smart Assistant technology, when paired with your smartphone, talk directly into the glasses to speak and use technologies from Apple, Google or Android.
63-degree angle-of-view camera lens. See everything in front of you with flexible arm grips and fit securely to most head sizes.
Built-in lithium-ion rechargeable battery.
Provides up to 2 hours of hands-free video recording.
Captures 15MP still photos with its rugged frames and has UV protection. Lightweight and durable just like regular sunglasses.
Built-in microphone that records rich audio to complement your high-definition video.

Features
GoVision polarized 1080p HD video-capture sunglasses come with built-in bluetooth 4.0 speakers, smart assistant voice command, 15MP still camera, 8GB microSDHC card and a case.
A built-in HD video camera makes recording the moment as easy as seeing and best of all, hands-free.
These camera glasses provide UV protection to keep your eyes happy too. Answer incoming calls with the press of a button and speak right into the glasses built in microphone.
Also captures 15MP still photos or just record rich audio/video.
You can also enjoy up to 3 hours of music streaming on a single charge and can be easily recharged with the included USB charging cable.
Uses
These camera glasses can be used to connect with v4.0 Bluetooth technology to your smartphone and answer phones calls, talking hands free while driving or riding your bike.
The built-in 0.5W speakers on each side, allow you to stream your favorite music while on-the-go or working out.
Control your music with on-board volume buttons as well or just record video as you go.
The Good
Good quality video and easy to use controls. Great for taking still pictures clearly. Also can be used with cell phones for conversations, music, hands free.
The Bad
User voice tends to pick up well through microphone, but other voices can sometimes be hard to hear, if far away.
These unisex style, durable frames not only have UV protection, but serve a multitude of hands free purposes.
The camera glasses stylish look is inconspicuous in social and business settings, so even if not recording, they work great as sunglasses.