Whether you are a homeowner or a renter, a home security system can offer peace of mind. These days, installing a home security system no longer means spending a small fortune.
Paying monthly fees and being stuck in lengthy contracts are now a thing of the past. Many DIY home security systems can be monitored and controlled directly from your smart phone.
Best DIY Home Security Systems
Depending on your needs, these simple and affordable systems maybe the answer to protecting your home.
Many people also prefer to use the CELL PHONE SPY APPS to control their loved ones.
iSmartSafe Wireless Home Security System Basic Package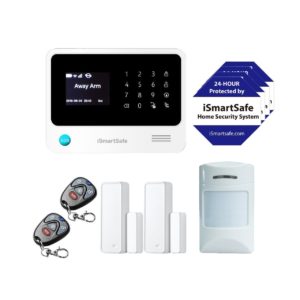 This DIY wireless security system comes with no monthly fees, no contracts as well as being self-monitored and self-controlled with a free app on your smartphone. Not only will you have remote control and monitoring capabilities but you can use the 2 way voice communication function if needed.
Alerts can be sent to your phone in the form of a call and/or text . Alerts that are sent to your smart phone can be used for up to 6 different people. The connection for this system is cellular as well as WiFi for a double connection and double the protection.

The Good

The Bad

Never worry about power outage, phone line cut or WiFi signal

Easy remote control and monitor, 2-way voice inter-communication

Easy expansion and customization

Installation maybe confusing
Alarm lacks volume
---
Pisector Professional Wireless Home Security Alarm System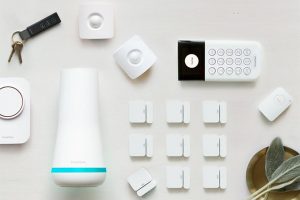 This do-it-yourself system means you will not be charged monitoring fees and it is easy install.
To arm or disarm, enter a personal code or use the key-chain transmitter.
There is also a chime function to notify of guests entering or a child opening a door or window.
With its auto-dial function  it can call up to 6 numbers in case of alarm. "Silent Alarm Mode" calls out discreetly making it suitable for shops or in life-threatening situations. 
Each sensor can be named with up to 28 characters to help identify them easily when used with the auto-search feature.

The Good

The Bad

Microprocessor controlled pet-immune sensors for detecting motion of objects above 50 lbs

Volume adjustable function with mute to hide the console

Pre-analysis before alerting to minimize false alarms

Cables may need grounding
Mounting plates are flimsy
---
Security 5-Piece Home Alarm Kit

Home Safety Security System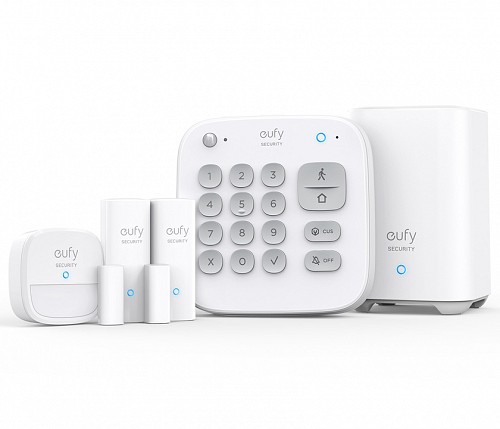 This wireless alarm system is the answer to an affordable wireless security system.
This system is used with the included control panel console or handheld remote transmitter to arm and disarm the alarm system. It offers a do it yourself installation and has no monthly fees.
This security system is ideal for homes, apartments, convenience stores, gas station , condominiums and more. This technology also creates a new code every-time you remotely arm or disarm the system providing the maximum security needed.

The Good

The Bad

Can be expanded with up to 15 Home security accessories

Up to 100 feet in remote range

Easy installation and set up

Supplied batteries are poor quality
Alarm lacks volume
---
Wyze Home Security System Sense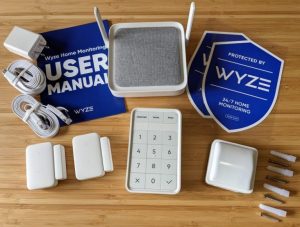 This is an all-in-one system including alarm, home control and video monitoring functions. This DIY system allows you to control and monitor the home from anywhere in the world while paying no monitoring fees. This system is easy to arm and disarm the system as well as see the sensor status with the smartphone app installed on your IOS or Android. You can also receive push notifications anytime a new activity in your home takes place.

The Good

The Bad

Wyze compatible, allowing you to integrate the system seamlessly with other Smarthome devices

Can add up to 100 sensors and controllers for additional control

Easy expansion &

 installation

App lacks control of installed cameras confusing
Sensitive motion sensors
---
Secure Home Security & Alarm System Starter Pack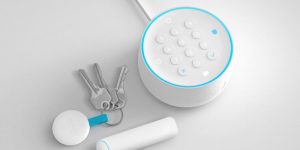 This is a great do-it-yourself wireless home security system with 24/7 Optional Monitoring.
A ready-to-arm feature provides SMS texts when the system is armed, disarmed or armed in home.
The system has Wi-Fi camera compatibility which can be viewed in real time through the total security application including 2-way chat, 360 degree view and 720p high-definition.
This allows for quick and easy access of the premises in real time in the instance of an alarm notification. System can also be controlled remotely from an app on your smartphone.

The Good

The Bad

Communicate with others while on the go via main panel

Control the system remotely from your smartphone

Set up and configuration is simple

Supplied batteries have short life
No dead battery warnings in less used zones
---
KEEPWORD WiFi IP GSM Tuya Wireless Intelligent Home Office Security Alarm Burglar Anti-Theft System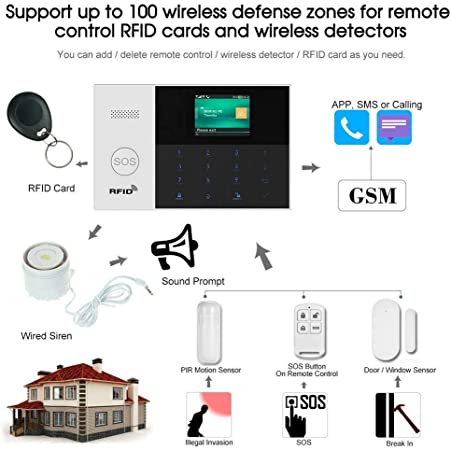 The Security Sensor detects vibrations and sends a wireless signal to the control panel or emergency number to alert. This is a great security solution for garage doors and windows.
This is a simple do it yourself installation with no monthly fees.
This system offers vibration detection and is ideal for RV's, boats, cars, safes and more.
This alarm sysetm works with Amazon Alexa and Google Home for voice control ( Alexa and google home devices not included ).

The Good

The Bad

Up to 100 feet in operating range 

Lifetime support

Easy expansion and customization

Easy to install

Alarm can be sensitive
May not notify of specific zone alarm
---
Most of these systems are sold as kits. They can be configured to fit specific needs, as well as the option to add additional components. These DIY home security systems not only help protect lives and property, but also satisfy every need and budget.